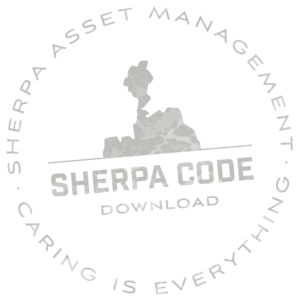 WE BUILD ON OUR OWN UNDERSTANDING OF THE WORLD – BY FOLLOWING THE PRINCIPLES OF THE SHERPA CODE.
Which we also call 'caring is everything' and which stands for (1) long-term preservation and growth of wealth, (2) constraining the magnitude of negative impacts, (3) conducting in-depth, independent research and ongoing analysis, (4) personally cultivating a longstanding and experienced network. Long-term preservation
We focus on wealth preservation and growth
_by selecting the most appropriate investments globally available
_by maintaining control of the decision-making process
_by acting ethically and with a commitment to our social responsibility Risk minimization through diversification
We manage the unexpected, always look a step ahead and build our own investment strategy
_with the Sherpa investment universe
> explore the Sherpa Portfolio

in-depth
understanding of the world through research & ANALYSIS
We use a transparent and recurrent 6-step Sherpa investment process for our portfolio construction & management.
_All portfolios are reviewed & monitored monthly, fully transparent and rapidly adaptable to changing circumstances. STEP 1
Macro view & risk assessment based on analysis of preferred regions & markets STEP 2
Selection of investment themes, based on trends and outlooks by industry & sector STEP 3
Cultivate broad access to the global investment universe through strict adherence to our Sherpa investment philosophy STEP 4
Selection of most fitting investment themes based on qualitative & quantitative criteria STEP 5
Monitoring investments by maintaining close & strong relationships to investment managers STEP 6
All portfolios are reviewed & monitored monthly, fully transparent and rapidly adaptable to changing circumstances Experienced and longstanding network & business partners for Asset Allocation
We have a unique network
_of first-class fund managers
_of business partners for direct investments
We have access to a wide range of service providers that support us in implementing our independent investment strategies
_such as economists & international banks for independent research, execution and custody
_law firms, audit & accounting firms for opinion and analysis